Peiping Machine is a craft brewery that is dedicated to purist brewing techniques and consistent quality. The custom logomark sources "Li Shu" style calligraphy from Peking-era ephemera, and modernizes it by amplifying the sharpness of the strokes. The identity system, including promotional imagery, is completely typography-based and inspired by International Style.


Peiping Machine

Visual Identity
Packaging Design

Beijing
2019

Collaborator(s)
Julius Hui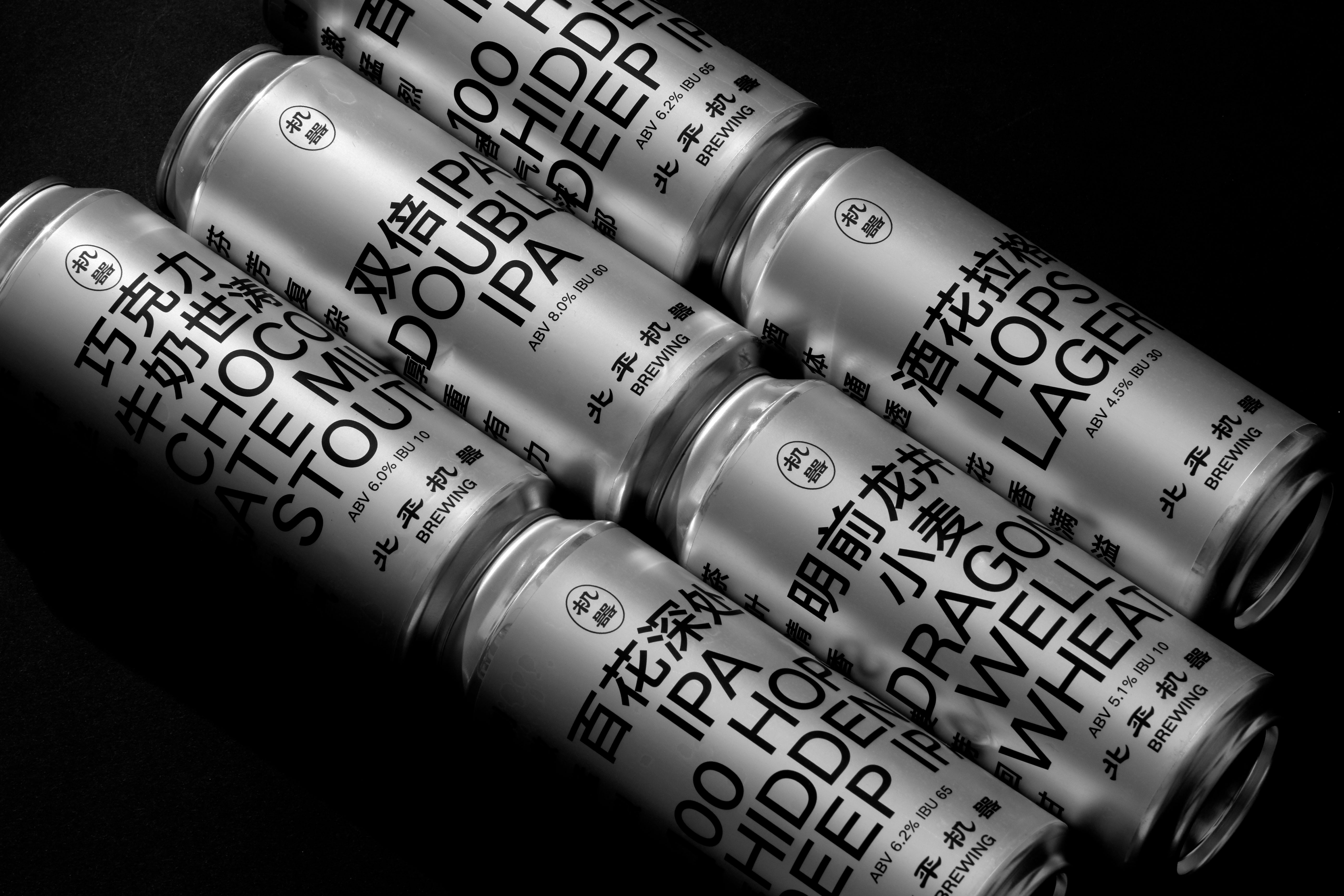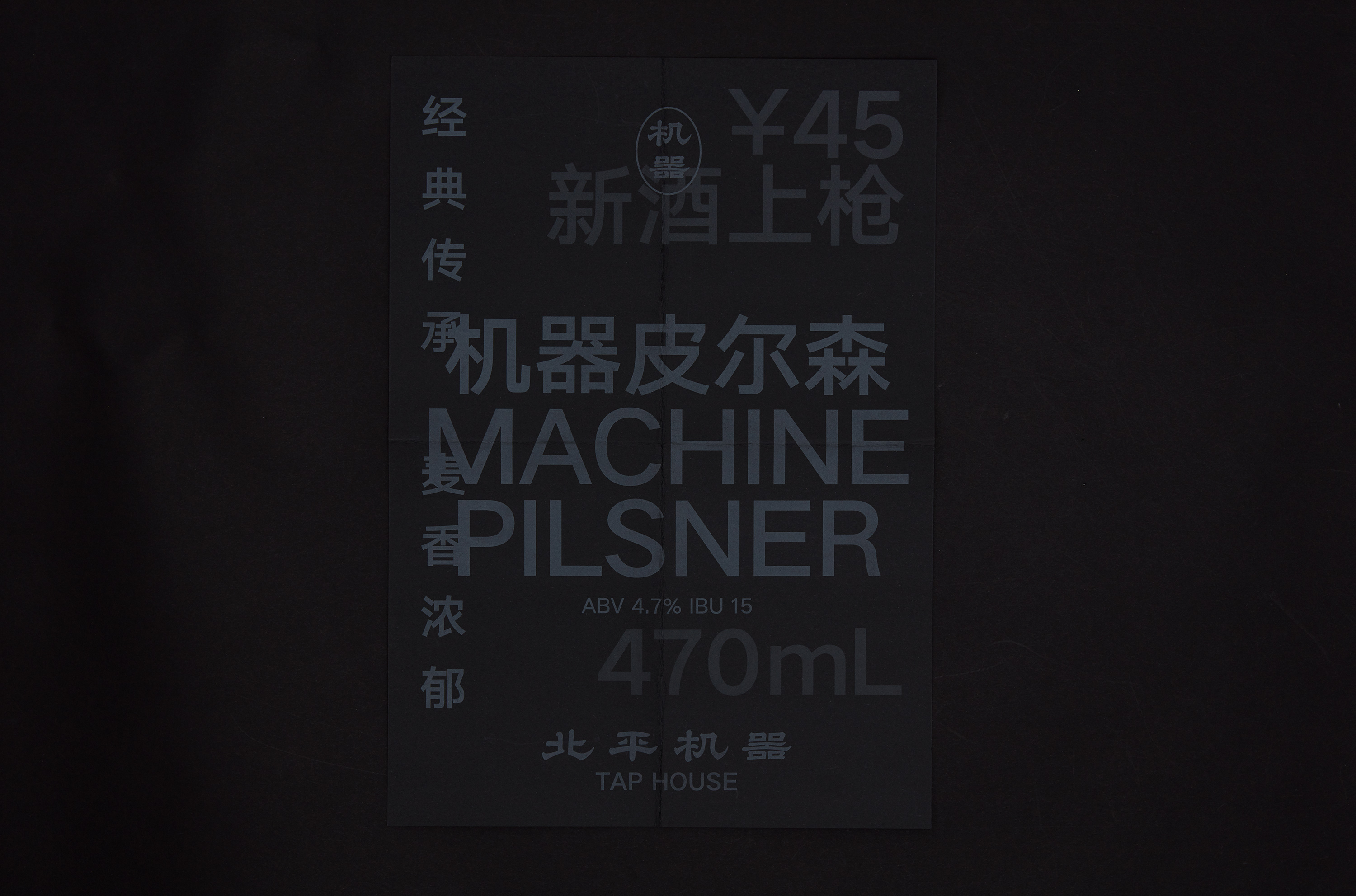 Myth Monkey Beer is a local Chinese beer brewery located in Wuhu, China. Signature brews are fruity and fragrant, appealing to a younger, more casual audience.

Naming derives from the ancient Chinese myth 水猴子 "water monkey" or 水鬼 "water ghost". The monkey draws from ancient Chinese mythological "diagrams", while type design stylistically blend Asian calligraphy with contemporary Latin-based type design.

Myth Monkey

Visual Identity
Packaging Design

Wuhu
2019

The city of Chongqing is one of bustling noises and towering concrete jungles, with dizzying visual tension and intensity.

The identity builds upon local vernacular, remixing elements such as spam advertising, public announcement templates, QR code cards for mobile ordering, and touristy street photography.

A commemorative zine and notebook reviewing the noodle stall's twenty year history was published as gifts to the eatery's cult following. All are printed in risography.
Pangmei Noodles

Visual Identity
Creative Direction
Art Direction

Chongqing, Beijing
2019

Collaborator(s)
Office AIO
Ken Ngan
S-TONES printing

All photography by Ken Ngan.


Space Design by Office AIO. Image courtesy of Office AIO.
In Hebrew, TALIA stands for "dew from Heaven" a symbolism of God that created the aesthetic atmosphere and cultural cuisines in the Mediterranean today. CASA TALIA integrates and inherit this essential meaning of Mediterranean cuisine.

The historical connections of the region, and the impact of the Mediterranean Sea on the region developed into cuisines that share dishes with strong cultural connections. The logo incapsulates and modernizes a culturally rich Spanish and Italian cuisine by mixing a contemporary sans typeface with a historical Serif. The logo together with the monogram forms a defining image of the spirit of the Mediterranean lifestyle.

Casa Talia

Visual Identity
Creative and Art DIrection

Beijing
2019


NBA Playzone (China), an indoor themepark targeting children from ages 2 to 10, needed creative and art direction, as well a as re-design of the NBA team mascots, who would feature prominently in the new parks.

One major goal of the brief was to create new versions of mascots to be kids-oriented and fun, as well as to appeal to the Asian market, expanding the characters' storytelling and merchandising potential.
NBA Playzone

Creative and Art Direction
Mascot Re-Design

Beijing
2019

Collaborator(s)
Blaze